We THANK you for your generous gift offering to help support Breaking Free Ministry!!
We pray that what you give, God will bless you 100-fold right back. We will continue to keep you in our prayers. If you have any special prayer request, please e-mail us back, and we will pray for those needs IN JESUS NAME! Thank you again and if you have any questions, feel free to contact us at anytime.
Ephesians 5:20 Giving thanks always for all things unto God.
2 Corinthians 9:6-7 But this I say, He which soweth sparingly shall reap also sparingly; and he which soweth bountifully shall reap also bountifully. Every man according as he purposeth in his heart, so let him give; not grudgingly, or of necessity: for God loveth a cheerful giver.
There are 3 different areas you can help support Breaking Free Ministry:
Breaking Free Ministry Website

(Keep the website up and running, helps pay for the website, internet, and time working

Outreach Material

(Breaking Free Ministry cards, flyers, and postcards that are given out)

Breaking Free Texting Ministry

(Helps pay for phone bill to continue reaching people

)
If you would like to help support in any of these areas here are the different ways you can donate:
Paypal

(Click on the Donate Button below)

Send a money order or cash

(Breaking Free Ministry, PO Box ????, Mishawaka IN 46546---PO Box Expired, we will have to get a new one, sorry)

Outreach Material- (Breaking Free Ministry cards, flyers, and postcards that are given out)
We take the time to hand out hundreds of these cards we have made up to reach out. We are always giving them out to waitresses or waiters, people on the street, or anyone we get a chance to talk with. In the last year we have handed out over 750 of these cards to spread the gospel to those around us. Below is the picture of Breaking Free Ministry Cards that are handed out.
2011 NEW CARDS!!! Front of the card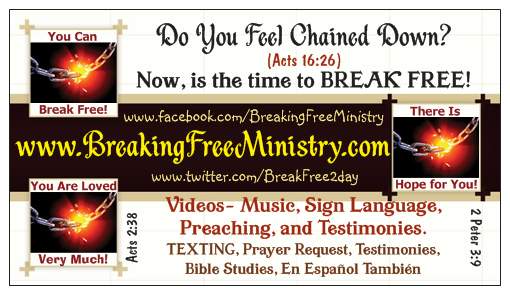 2010 NEW CARDS!!! Front of the card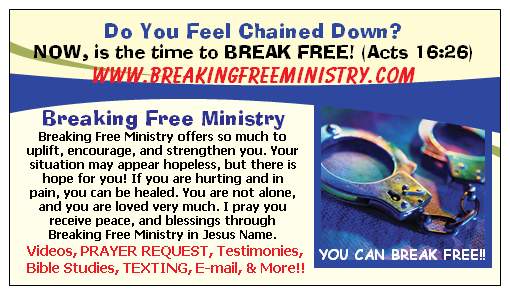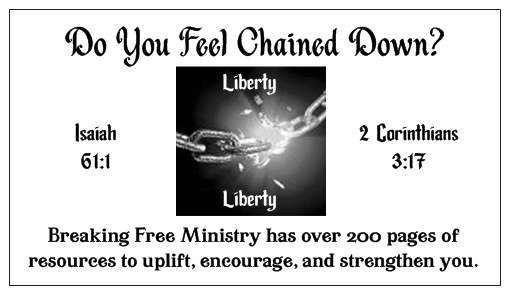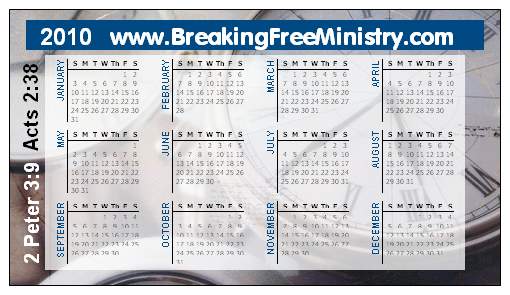 Breaking Free Texting Ministry-
Breaking Free Texting Ministry started back in March of 2009 with only 53 people. By the end of October of 2009 we are now up to 200 people. As of April 2010 we now have 280 people who have joined the texting ministry. We like to send out a word to uplift, strengthen, and encourage those around us. Isaiah 50:4 "that I should know how to speak a word in season to him that is weary". Sometimes people need to be encouraged when they are weary. Luke 7:7 "but say in a word, and my servant shall be healed". Sometimes all it takes is a word to heal the broken. Hebrews 3:13 "but exhort one another daily". We need to lift each other up daily. Romans 13:8 "Owe no man anything, but to LOVE one another". We are to show love one to another. Ephesians 4:32 "and be ye kind one to another, tenderhearted, forgiving one another".
A main topic sometimes is focused on with a few verses to go with it. Or maybe its only one verse with a main topic that is sent out. A text is sent out at least once or twice a week. Some of the past topics have been; God who comforts, Dont give up, I love you, Repent and God will, Need help? Cry out, Have faith, God will help be patient, Go through it a blessing is on its way, Trust in the Lord He will take care of you, Receive peace, God is my help, God is able, Deliver you from those who hate you, Do you want a blessing, praying for others will change your situation.
If you would like to be added to the texting Ministry, feel free to send a text to (574) 514-2106. We also take prayer request through text and will add them on the prayer request page on here. When you send a text, please state in the text what you are needing along with your name. Thank You.
UPDATE: As of 11-1-2010 we are now up to 400people on the texting ministry list.
Breaking Free Ministry Website- (Keep the website up and running, helps pay for the website, internet and time working)
Breaking Free Ministry is ministering life, word, and blessings as never before to the body of Christ. As well, we would like to extend an invitation to all who visit Breaking Free Ministries to financially partner with us in ministry. You can do so through Paypal by clicking donate or you may also e-mail us at breakingfree2day@aol.com
Thank you for what you are doing for the ministry of the Lord. May the Lord bless your sacrifices a hundred-fold.
-People We Want To Acknowledge:
-We would like to give special thanks to all those who were kind enough to take the time out to share their testimony of what God has done for them. We are not to be ashamed, but to share what God has done for us.
***2 Timothy 1:7-9 (kjv)
7:For God hath not given us the spirit of fear; but of power, and of love, and of a sound mind.
8:Be not thou therefore ashamed of the testimony of our Lord, nor of me his prisoner: but be thou partaker of the afflictions of the gospel according to the power of God.
9:Who hath saved us, and called us with an holy calling, not according to our works, but according to his own purpose and grace
-We also like to thank all those who take the time to go to the prayer request page, to pray for those in need. We need to pray all the time, and not just when hard times come our way.
-We're thankful for all our friends, and others who give us ideas and ways to expand the site. Which is our main goal and what God calls us to do.
***Luke 14:23 And the lord said unto the servant, Go out into the highways and hedges, and compel them to come in, that my house may be filled.
-Thank you to anyone who passes this site onto someone else for it to be a blessing unto him or her.
Giving honor where honor is due:
Huge Thank You's to all those who have given financially, prayer and support!
Charles From Oneida, TN
Marcus From South Bend IN
Clifton From Neosho, MO
Diaz Family From Elkhart, IN
Cindy From Mishawaka, IN
Jacob Miley From Kansas City, MO
Martin From Sawyer, MI
Garret From Beaumont, TX
David From Elkhart, IN
Larry From Surprise, AZ
Chris From Goose Creek, SC
Rolando From San Antonio, TX
Ron From Bourbon, IN
Timothy Dunn From NM
Sonny From KY
Freddie From Maricopa AZ