Here are a few items that have been posted recently but there is much more to see.
Dont forget to check out all the other pages

.
Bro Lee Stoneking teaching on the book of Daniel and Revelation. Understanding of Nebuchadnezzars dream. A time line of 4 Gentile Empires. Understanding and A very detailed study of Daniel 70 weeks. 7x70=490years. The book of Revelation the 70th week which is Israels future. Chapter 4 in Revelation is the church is Heaven. He Explains about the rapture, the 7 seals, the multitude of those in white robes, tribulation and the antichrist.
Bro Lee Stoneking shares his testimony of how God brought him back from the dead. He went back to Australia 1yr later from the day that he laid dead in the airport. He meets with the EMS worker who shocked him many times but would not come back to life. He visits the Dr who worked on him. . . Title for his preaching after his healing testimony is "Because of the Times" Mark 16:15-18 SIGNS FOLLOW THEM WHO BELIEVE!!
"He Set Me Free" Video and Lyrics .. He set me free yes He set me free, He broke the bonds of prison for me, I'm Glory bond my Jesus to see, For Glory to God He set me free"
"When I Cry" Lyrics and Video Song by Gaither Vocal Band. Video By Katherine Howell "When I cry, You cry. When I hurt, You hurt. When I've lost someone, it takes a piece of You too. And when I fall on my face, You fill me with grace. 'Cause nothing breaks Your heart, or tears You apart, Like when I cry."
"Shout the the Lord" by Hillsong and Video by Katherine Howell.. "Shout to the Lord all the Earth, let us sing, Power and majesty, praise to the King, Mountains bow down and the seas will roar, At the sound of Your name"
"Amazing Grace" Video and Lryics.. Song wrote by John Newton (1725–1807), published in 1779.. Video by by Rhema Marvanne 7 yr old Gospel singer.. "Amazing Grace, how sweet the sound, That saved a wretch like me. I once was lost but now Im found, Was blind, but now I see."
"Freedom" Gateway College of Evangelism.. Video and Lyrics.. I wanna clap a little louder than before, I wanna sing a little louder than before, I wanna jump a little higher than before, I wanna shout a little louder then before, Freedom, Freedom, Freedom"
Give Us Clean Hands: Worship Video Artist - Chris Tomlin .. Lyrics to Oh Lord give us clean hands. Give us pure hearts....
Philippine Worship and Praise Songs: "Thank You Lord", "I dont have a prayer without you", "In Christ Alone"
"Daddy, I do better when you encourage me!"--- Matt Maddix shares his thoughts about the impact you can have when you encourage someone. Words are powerful. . . Thats why God says in His word you can speak cursings or blessings. . . . That good or evil can come out. . . it can be healing to your body. . . . sweet as honeycomb. . . . it can either stir up anger or calm one down. . . . if you read the book of proverbs and james you will read how powerful words can be. . . . you can speak life or death . . . . What will you choose to speak today?
Cory and Jina McCool : THANK GOD FOR THOSE WHO PRAYED FOR ME!!!! Cory and Jina McCool sing "Somebody Prayed for Me" at First Apostolic Church of Maryville, TN. June 7, 2009 - Sunday AM service.
Pastor Mark Morgan: The tale of two tree's-- The tree of knowledge and the tree of good and evil. If you are going from the tree of life and then falling back to the tree of good and evil you need to watch this video. Taken from Genesis 2 and then going to the book of James. The book of James is about patience. It talks about being double minded, blessings and cursing, rich and poor, sweet water and bitter water.....When a person becomes impatient they have a tendency to change trees. You need to ask God for wisdom to be stable and to keep eating from the tree of life instead of the tree of good and evil. If you want to grow spiritually, this video will give you MEAT for your spirit to grow. AMEN!!
Lee Stoneking- God's Choice for You -- God chooses people based on the choices they make in life. Moses did not know when he said, "I refuse to be called the son of Pharoh's Daughter" that God chose him to be the deliverer of millions. God chose Joshua, Eli, and David... These signs shall follow them that believe Mark 16:17-18. Greater is he that is in you, than he that is in the world 1John 4:4. If you know what to do, do it. Get with it and kick the devil in the face.... Sometimes our preachers dont preach well because you dont worship well... God purposely takes things from us just to see if we are willing to give it up and once he sees we are willing to give it up he will step forward and return it to you... You have the Holy Ghost Power.
"WHO'S YOUR DADDY?" Ultimate blow to the heart of God: John 8:38 "I speak that which I have seen with my father, and ye do that which ye have seen with your father." All it takes is the voice of the stranger "Satan" told them that God does not love you, that God does not want you, and you switch fathers. Jesus says here is you have another father. The ultimate blow to God is when you allow Satan to beceom your father. .....John 8:44 "Ye are of your father the devil, and the lusts of your father ye will do" Whoever is your father will be the desires/works you carry out....1 John 2:9-11......
Erwin Maternity Care Center: I don't have anywhere to live while I am pregnant. What are my options? New Beginnings offers birthmothers who are considering adoption the option of staying at the Erwin Maternity Care Center free of charge. This spacious (4,000 square feet) home offers opportunities for privacy, solitude and friendship with other birthmothers. The Center has full-time house parents who will transport you to and from doctor's visits, provide meals and offer other recreational opportunities.
PhilippinesForChrist.com Mark and Debra Naimy have been involved in foreign missions work since 1994 when they established the first permanent Apostolic missions work on the island of St. Vincent, West Indies (in partnership with co-missionaries Eric and Cyrlene Rodriguez who are still doing a great work there.) The Philippines is by American standards, a very poor country. The vast majority of our pastors (and most of their constituents) live in extremely tough financial conditions. The common wage for workers in the Philippines is about $6/day. In spite of this, their outlook is upbeat and their faith in God is high!
AnsweredHere.com: DO YOU WANT TO GO TO HEAVEN OR HELL? Take a look at this. Its really awesome and it will make a great impact in your life.
MattMaddix.com: Can you image with me a life that you feel complete and fulfilled that you literally have discovered your passion and purpose on earth? I am here to help you with that and am confident that my experience and ministry can be of a service to you. I am here to help, empower, and inspire you to reach your dreams, fulfill your passion, and win as many souls as you can before Jesus comes.
ApostolicsOfMaricopa.com Tired of church as usual? Our approach is a little bit different. We don't want to just be another church, we want to be a ministry that helps real people with real needs. No matter where you are in life or in your walk with God, we've been there too, and want to help you in your journey. Lead by a Man of God who is Originally Raised and From the City of Maricopa, you are in Good Hands. The heart beat of this Shepherd is to watch and pray for the Salvation of you and your Family.
Endtime Bible Prophecy Ministries: FREE! Click here to order the free brochure, "What Do You Mean, Born Again?" or any of our other free materials. New World Order is World Government. The Coming One-World Religion. The Four Horsemen. The Great Tribulation - 7 years? The Mark of The Beast. The United States in the Bible.
In Catergory "Drugs" and "Suicide" Ryan's Testimony: I started exploring my options wanting to make more money so I started selling crack, coke, and pills. So at 19-20 I really began to make money about 50,000 $$ every 4-6 days.........Lost the houses, lost the cars, lost the money and began building my business back up and I had fallen into a deep depression an went in to a psych ward 2 times in 2008. Winter of 2009 I found myself sitting in the woods with my head resting on the barrel of a loaded 12 gauge shotgun. Read More...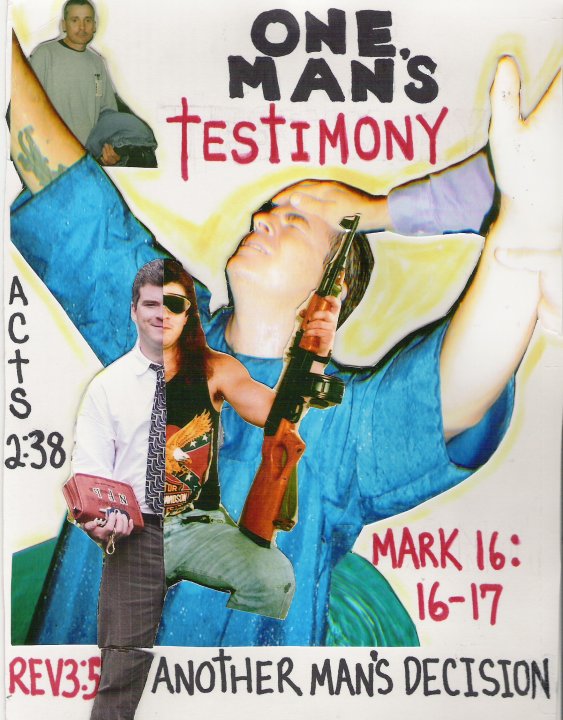 In Catergory "Drugs"
Carl's Testimony: Addicted about 20 years, bound by all phases of drugs and alcohol. Read More....
In Catergory "Healings and Blessings" Live Life To The Fullest - Charles: When he turned, he turned right into the path of a fast moving Chevy Avalanche. The Avalanche hit the passenger side of the car, my side, jamming me into a small space between the door and the center console. The accident put me into a coma instantly, and the coma lasted about a month. Read More....
In Catergory "Drugs" Corey's Testimony: My testimony explains HOW God changed me, and used what the devil tried to use for evil to help me grow spiritually. For one reason or another, I wanted to fit in, wanted to be loved by the world I guess I started hanging out with the wrong kind of people, and that lead to me becoming extremely far away from God. Anyways it didn't stop with cigarettes, it soon turned into marijuana, and other drugs. Read More....
In Catergory "Healings and Blessings" Sister Tricia BLESSING!!: As I was driving you could feel the van shaking pretty bad and the tire shop wasn't open yet. so I got out and looked and it was almost completely flat so I got in my car and drove it about a half mile thinking and praying oh Lord please let me make it to the Discount tire shop. AND anoter blessing...... long story short we put it for sale on craigs list for 175.00 the young couple came to our house and just loved it he went to give me the money and said to me here I want to give you an even 200.00 for this couch. Read More....
Sent out 9-20-2010.. Psalm 25:15-21 KEEP your EYES upon the Lord. If your alone and in pain, KEEP praying. TRUST and WAIT on the Lord. He will deliver You! Bless you in Jesus Name.
Sent out 8-7-2010.. Do NOT Stop Believing. Matthew 21:22 What you ask in Prayer, BELIEVING, you will receive. 1st John 5:14 Ask according to His Will and HE hears us.. Bless you in Jesus Name.
Sent out 7-21-2010... Trust in the Lord. He hears you. DONT GIVE UP! Psalm 143:1, 7, & 8 Hear my prayer, O Lord. Answer me quickly. For IN YOU DO I TRUST. Bless you today in Jesus Name.
Sent 7-2-2010... You have the power to IMPROVE someone's life! Proverbs 12:25 Anxiety in a man's heart weighs him down, but an ENCOURAGING WORD makes him glad! BLESS you in Jesus Name
Sent out 4-19-2010... When you dont know what else to do, trust in God. He knows what you need. Philippians 4:19 My God shall supply ALL your needs. Love and Blessings to you in Jesus Name.
Sent out 4-14-2010.. God gives us the courage to know when to hold on and when to let go. HE IS with you and HE wont leave you alone. Deuteronomy 31:6 Be strong and of a good courage, fear not, nor be afraid of them: for the LORD thy God, he it is that doth go with thee; he will not fail... thee, nor forsake thee..Bless you in Jesus Name. Im praying for you.
How has Breaking Free Ministry impacted your life? What have you enjoyed about the Ministry? How do you feel about what we have to offer? Share with others how you enjoy this Ministry. Thank you and Bless you all in Jesus Name!
Truly an awesome ministry !! - Rachel
I appriciate your prayers! I am praying for you as well. I love you too! It is soo good to have sisters in Christ!! Thanks for the info on your Website. I love IBC music. - Candice




Great Job with the Ministry Page! I love what your doing! - Freddie




This web sight is such a blessing to me... I just love it. - Deborah




Hey!! Just wanted to say how awesome Breaking Free text to land line messages are awesome. It is so cool, they always seem to come at the right moment! Not kidding, each time..it`s always a scripture that i need at that very moment. Keep up the good work, you are doing an awesome job! love ya!:D - Carrie




I am listening to the whole set of Bro Mark Morgan's videos and have to say thank you for sharing them!!! GREAT PREACHING!!!! - Reba




I really like viewing your website BreakingFreeMinistries...- Maria




I'm so glad to have you In my life. Continue allowing GOD to use you. For it is beautiful, & it's also a benifet for our souls. GOD Bless you continualy. Para Siempre. In JESUS name. = ) - Sergio




You are such a blessing! Love You! - Molly




Thank you for praying for my wife...she is sleeping like a baby now! :-) May the Lord richly bless you and your family, In Jesus Name - William
P.S. Please take time to go to the prayer request page and pray for all the other request that are posted. This is only a few of them posted here. Thank you
Pray for those who have lost their jobs and seeking....
(11-24-2010 Arnold) My son is 10 years old and needs prayer for he is in the hospital right now and not doing good, he is taking a lot of meds right now. They told me that he has adhd, odd, and bipolar. I believe God can bring my son out of this!
(11-23-2010 Juan) I would like everyone to pray for my brother Luis to be delivered from drugs IN JESUS NAME!!
(11-22-2010 Scott) I need prayer and comfort along with my family. My younger sister who was going to be turning 21 on Thanksgiving died in a car accident the other night. Her car went off the road, hit a tree and it burst into flames. Thank You.
(11-14-2010 Cambree) Could you please keep me in your prayers. I'm going through a horrible trial. I need God to perform a miracle.
(11-17-2010 Diaz Family) A Prayer for Junior. He was removing a garage door and the spring flew off and ripped the side of his face and lip apart. They are not sure if his jaw is broken now or not. Pray he is able to get the help he needs and it heals up with no difficultie
(11-14-2010 Tiffany) my name is Tiffany..i would like for yall to pray for me...so much has gone wrong in the past two weeks...my parents split up a couple months ago..my family is torn completely apart..my brother moved to texas tuesday. my momma is moving to new york thursday. my car keeps messing up.. i put off my car note this week to get the radiator fixed. now, its leaking somewhere else. my nanny died friday, her funeral is tomorrow.. and since church thursday night, i feel like im in a spiritual box...like im in a box and like Gods somewhere else, you know? its like HES blocked off from me.. just, like all this stuff keeps happening, its one thing after another and its not stopping.
(11-15-2010 Timothy) My sister and I need a job. Today my family in general needs your healing touch and your guiding hand through every trial that comes our way. IN JESUS NAME!
(11-09-2010 Diana) An emergency unspoken prayer request, dealing with life & death.
(First Apostolic Church of Mishawaka Indiana, For Pastor Ebright 11-2-2010) Pastor Gene Ebright had an MRI done on 11-2 and they found cancer in his spine. He is in MUCH pain. Please keep him, his family, and our church in your prayers. He needs wisdom, strength, healing and deliverance IN JESUS NAME! (Jeremiah 32:27 I am the LORD; is there anything to hard for Me?)
(Carolyn 10-25-2010) Please pray that my struggles will soon disappear that I may have peace of mind, and that the mountains that prevent me from prospering will soon vanish. That my walk with god will be the best walk I've ever taken.. I need you to place a miracle in my life. I need my enemies and my mountains moved. I need help to focus, protection for my kids the ones I love.
(Anonymous 10-23-2010) My wife has been in the battling cancer for more than a year. Her only hope of survival now is a miracle from GOD. I (her husband)have been caring for her since July as her condition is worsening. We have prayed. Her symptoms have worsened and I am finding my faith shaken to the core. I know healing is available from what I read in the word. I just don't know why she has not been healed after so much suffering. I ask that GOD deleiver her from death, which is at our door, and give her a story of glorious deliverance instead of embarrassing defeat.In the name of Jesus.
(Justin 10-14-2010) I would like to ask everyone to pray for me to get this job that I had an interview for today, also I just had a recent divorce and that I would like to ask people pray for a reunification!! Thank you
(Charlotte 10-6-2010) My husband (Farai) has left home to stay with another woman for 5 months now and I pray his return. Please pray that my husband will love me again and come back home. My daughter ( Takkea) misses her dad very much. Please pray that my husband and I will grow closer to God and trust him and that God will deliver us.
(Shannon 10-5-2010) Please pray that He would cause everything causing evil and harm in my life to be removed and that Jesus would cover me with His Holy Spirit and be my protection. Please cancel all the enemies plans for me and plead the BLOOD of Jesus over me and speak life over my situation and believe with me for my deliverance. That his Blood would be my covering and serve as a barrier against any evil source or power trying to affect me. That Jesus would save me from some serious situations too big for me. Thanks for praying and believing with me.
(Les 9-29-2010) please pray, my wife has left me, the 1st of sept. we let our walk w/ christ slip after we moved to another town, she has listened to ungodly female co-workers, i do not even know where she is as she transfered to another city,pray for her salvation and that god will open her eyes and restore our marriage. thank you
(Melody 10-3-2010) Please pray for a friend of mine, Cherylene shes got serve infections in her lungs and she got high blood pressure. AND pray for our cleaning and trading company. It feels like there is alot of blockage that keeps the company from prosperity from growing from getting jobs from financial growth and also pray for the ladies running the company for wisdom, understanding, and for protection against every evil spirit that come up against us. Thank you...
(Christopher 8-8-2010) I need help. I need guidance. I need the lord to guide me the whole way. I need my family back home with me. Please ask that my family return home(my wife left me 8-5-2010) that I have the chance to show that I am a changing man. Ask that god use his power for this to happen to bless me. I do believe in miracles.